The Best Skrill Poker Sites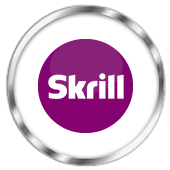 Skrill is an eWallet company that's headquartered and regulated in London, but whose service is available in lots of currencies and countries all around the world, including South Africa.
With millions of customers and an unbelievable number of annual transactions, Skrill is one of the top dogs for making safe deposits at online poker sites.
If you've been looking for the right South African gambling site that accepts Skrill, we've got the best of them listed right here. However, if you'd like to learn more, read on and find out exactly why Skrill might be the best option for SA poker players like you!
Skrill Sites for South African Players - The Good Stuff
Skrill was designed to be a low cost alternative to traditional money transfer tools like bank wires and credit cards, and with fees of just 1.9% on credit card transactions, and a maximum of 0.5 Euros on Skrill transfers, they've kept true to their cost cutting mission.
Skrill has been so successful that in 2023 the vast majority of online poker rooms currently accept Skrill deposits and withdrawals. In fact, the world's largest poker site, Pokerstars, uses Skrill as its chosen Internet payment processor.
Keeping It Off the Books
Putting cost aside for a moment, the biggest benefit that Skrill offers cash players in South Africa has to be privacy. Since Skrill stands between your bank and your poker room, there's no reason your bank has to know what you're doing with your money. And since traditional South African banks are likely to block online gambling transactions in 2023, a little bit of privacy goes a very long way.
Disadvantages of Skrill for South African Players
With so many great features, it's hard to find a major disadvantage with Skrill, but there is one thing to consider. When you use your credit card, for example, to deposit with poker websites, you don't have to do very much. Just pull out your cards, type in some info, and you're off. With services like Skrill, you have to spend a bit more time. Doing things like setting up your new account, linking it to your bank, and then ultimately moving money to Skrill before it's available requires some patience. It's not a huge problem by any means, but it is something to consider.
How Safe is Skrill?
Skrill relies on its reputation but even if that wasn't enough to convince you, this company is legally required to take some serious security measures. It's registered with Her Majesty's Revenue and Customs as a Money Service Business and further regulated by the UK's Financial Services Authority.
There's also an additional layer of regulation that comes with their EU licencing. Skrill, therefore, has to meet some pretty strict requirements in terms of its best banking practices and online security, all of which directly benefit real money poker players in SA like you.
We Find The Best Skrill Poker Sites on the Net
So, you want to start playing real money online poker using Skrill, but you're not sure about the next step.
Don't worry - we've got you covered. Our South African expert reviewers know exactly which Skrill poker sites have what it takes to provide you with the best poker experience possible. We test all great sites and make rankings based on traffic, cashout times, quality of software, and size of the deposit bonuses.
So, don't waste any more time - scour our pages and click on one of our top links to get yourself the best site and deal possible. Sign up and start winning with your Skrill site today.