Debit Card Poker Sites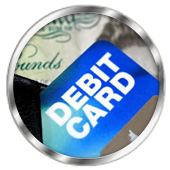 Debit cards give players an easy way to directly pay using cash from their bank account. They fill the void between credit cards and checks to offer you the best of both worlds, so it's not surprising that they're extremely popular.
Now, more than ever, as web purchases have become more common, poker players are asking if they can use their normal debit cards to deposit at online poker rooms. The answer is a resounding, "Yes!"
Read on to find out how this process works and decide for yourself if it's the right poker banking option for you when playing online poker in South Africa.
Debit Cards: The Good Stuff
There's a reason so many Internet poker players in South Africa automatically reach for their debit card when it's time to make their first online deposit: it's easy and familiar. You don't have to waste time signing up for a new service or funding an eWallet account. Just use the same debit card that makes all of your everyday web purchases so easy.
Using your debit card to deposit with online poker sites is really easy. If you have ever made an online purchase with it, you already know the process. You just have to take two minutes to fill in a simple digital form on the net with information like the card number, your name and billing address, security code and expiration date. Then, when you hit 'Submit', the money will instantly appear in your account - no fees deducted, no questions asked.
OK, So What Are the Downsides?
So, debit card deposits are fast, free, and safe. What could possibly be wrong with them? Well, in the case of South African poker players, there is one potential stumbling block that has the potential to stop your game in its tracks. Due to legislation in 2023 that puts online gambling in a murky grey area, a lot of South African banks are pulling back and being quite conservative in terms of which transactions they allow. Your online poker site is undoubtedly working to get around these gaming restrictions, but don't be surprised if some sites seem off-limits.
How Secure are Debit Cards Really?
Good question. Safety is a priority in the world of online banking, and with the ever present risk of identity theft it's always better to be safe than sorry. That is probably one of the biggest reasons that players stick with their debit cards: they don't have to worry about fraud.
Of course there are cases in which web Texas Hold'em players have had their debit card information stolen and used without their authorisation. That can happen with any payment method, of course, but the difference with debit cards is that the card carrier (Visa, MasterCard, etc.) has airtight protections in place. From fraud detection technology to money-back policies, there aren't many safer options out there.
We Found the Best Debit Card Poker Sites Online
Making the right South African poker site choice is the key to having the most enjoyable online experience possible. Make those choices easier by following our great links and using these pages to getting the best site for debit card.
We test and compare every major site (and most minor ones) to find the best payment processing around, the safest sites, and the fastest cash-outs. If a room doesn't make the cut, we won't recommend it - it's that simple.
Stay one step ahead of the pack and play for real money when you deposit using a debit card. Pokersites.co.za is your one-stop shop for the top rooms around.