Top Mobile Poker For South Africans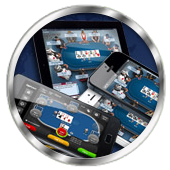 Mobile poker is becoming more and more popular in South Africa every year - the only issue is that you have to know where to play.
Not every poker room offers a mobile option, and even some of the more popular mobile poker sites just don't have what it takes to be classed the best for South African players.
That's why we created these pages, to help you find the perfect website for your smartphone and tablet gambling experience! Read on to discover our top rated suggestions and to learn more about the mobile poker revolution.
Mobile Poker: The Good Stuff
Everyone knows that playing poker online on your cell is fun and delivers unbeatable convenience, but did you know that it's also really easy to get started? Online poker sites with mobile apps provide everything you need in a matter of seconds, and you can even play from your normal player account. It's all based on the same bankroll, the same Texas Hold'em games, and the same competition that you'd see when you're not playing on smartphone software.
Best of all, the mobile poker sites apps that you need are totally free and they just happen to work on all major smartphone operating systems, not to mention the fact that you can use any South African mobile carrier that you want (Vodacom, MTN, etc.) without issue. Kick starting your mobile poker online experience is easy for everyone who has a smartphone in South Africa.
What's also great is that all main types of mobiles and tablets are great for gambling online. This includes Apple iPad tablets, iPhones, and Android.
Smartphone & Tablet Poker: The Bad Stuff
There are, however, some logistical limitations to consider. Even the best poker sites' mobile software still have to handle the fact that players are using smaller screens and slower processors, so some things just aren't practical.
Take multi-tabling for example.
A lot of mobile poker players couldn't make it through a Sunday's worth of card game tournament action without this useful feature, but if you're playing on your cell, there's no good way of playing 10 different hands at the same time. Luckily, you can freely switch between your favourite poker site's mobile phone software and your computer with the best poker rooms on the net.
Top 5 Tips for Playing on Your Mobile
1. Schedule Your Game around Your Life - Since you can now player wherever and whenever you'd like, take full advantage of poker sites' mobile software by fitting your game into those downtimes in your day that you used to just waste.
2. Get Started with Fun Money - Poker sites' mobile phone software comes with a streamlined interface. Until you know where everything is, start by playing Texas Hold'em for free and learn the ropes without blowing your bankroll.
3. Only Play When You Can Focus - Just because you can play whenever you want doesn't necessarily mean that you should. If you're multi-tasking, your favourite mobile poker sites can wait. If you cannot focus, you cannot win.
4. Don't Change the Fundamentals - Mobile poker is more convenient, but the game is the same. Don't change anything about your strategy just because you're playing on your mobile - it's a sure way to lose your edge.
5. Choose Your Mobile Poker Sites Carefully - Any time you trust someone with your money online, you have to make sure they've got a sterling reputation. When it comes to mobile poker apps, a little bit of research early on can save you a lot of heartache down the road.
We Found the Best Mobile Poker Apps & Games
Finding the top online poker sites with mobile apps doesn't have to be a challenge. Our review team is made up of South African poker fans who eat, live and breathe Internet poker.
They have put in the hours to come up with top ratings and comparisons for the best sites catering for you. The mobile poker rooms listed on these pages beat the competition across the board - from bonuses to traffic stats - and earned our seal of approval.
So follow one of our links today and sign up with a free player account. In no time you'll see exactly why our favoured apps made the cut.