Top New Poker Sites 2023 For South Africans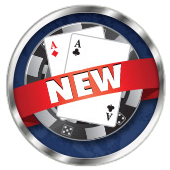 This year, we've seen a flood of new poker sites on the Internet. Each has its own special selling point, and each has concerns over strengths and weaknesses.
But we don't want you to waste your precious time sorting through them to find the best. Read on and let us guide you through the whole process. We provide comparisons and ratings on all the good (and not so good) new poker websites for South African players. Even better, you can start today and take advantage of their welcome offers!
New Poker Sites: 2023's Top New Developments
The poker online industry needs new sites to keep pushing the envelope and, if nothing else, to keep everyone on their toes. When the latest room is looking to break into the industry, its team is willing to do whatever it takes to stand up to the biggest names in the business. That's how Internet poker has managed to stay fresh after all these years.
For new poker sites, 2023 could mark the year the industry takes another new turn. With the law changing in the US and websites readying themselves for a potential re-emergence of American customers, brand new rooms are springing up everywhere, experimenting with upgraded bonuses, interesting tournament structures, and huge interface advancements.
To be honest, most of these start-ups are upstarts. But, when new Texas Hold'em sites strike gold with one of these developments it's quickly adopted by the industry, and everyone benefits.
These Top Choices Have Plenty to Offer
We're always looking for new real money card game sites because they're in a unique position to offer up a lot of value. These rooms have one big challenge: they need to build up a player base, and they'll do whatever they can to make it happen. Some firms choose to focus more on technology and others on bonus opportunities - but you win either way!
What to Look for in New Poker Rooms 2023
New poker websites are a bit harder to evaluate than longstanding operations because there's simply less information about them. Without a multi-year track record to examine, one must be careful when deciding the contenders for the New Poker Sites 2023 Awards.
There are, however, several key points to consider:
Go Back to the Source - First of all, you need to take a step back and look at the parent company. Who owns the new gambling sites that you're investigating? Do they have other poker online rooms under different brands? And if so, how trustworthy are those other options?
Check Player Reports - Internet poker players love to talk about bad, as well as good, poker room experiences in blogs and on online gaming forums. You have to be aware that the horror stories are usually worst-case scenarios, but the forums can be great places to look for red flags and weed out the places to avoid.
Bonus Terms and Conditions - This is an old trick that works like a charm if you're familiar with the terms and conditions of online poker bonuses. See what the restrictions on the welcome bonus are and, if they're basically impossible to meet, you'll get a clear view of how some new sites act when they think that nobody is looking!
Seals of Approval - One of the simplest things to check for is proof that any given new rooms have been tested and approved by a third party auditing firm like eCogra. Scroll to the bottom of the homepage on any of the new poker websites you sign up to and look for the eCogra logo to be sure.
Where to Get Started
Just knowing what to look for in these rooms is only the first step. You have to get out there and dig through a whole lot of options to find the best new poker sites 2023 has to offer.
Actually, you can save a heap of time by using our expert reviews and ratings. Our comparisons are unrivaled and we will tell you which of the latest poker sites are worth investing in, and which need to be avoided entirely. Sign up with one of our top recommended new poker sites and have a great experience straight from the off.