Best Entropay Poker Sites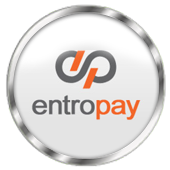 Since 2003, Entropay has been offering a service that, according to them, is a virtual Visa credit/debit card.
You can completely manage an Entropay account on your computer, transfer money to and from your bank account, and directly deal with your online poker site as if you were using a real debit card.
But no card is necessary: just the 16-digit card number and other basic information that you'll need to complete the cash transaction.
So, what's so great about that, we hear you cry. Well, South African online poker site players can now use Entropay as yet another method of making real money deposits on their favourite online poker rooms.
Advantages Of Entropay Deposits
Entropay beats out a lot of the other Internet poker banking options because it can be used both to deposit and withdraw your online poker funds. Entropay also offers reasonable fees (less than 5% for deposits from your bank and a flat $6 fee for transferring it back to your bank), and you don't really have to worry about juggling two different services - one for depositing and one for withdrawals - the way some players do.
Entropay Poker Banking - Security
Any time you use a service like Entropay, which sits between your bank and your poker site, you add a layer of security and privacy - and it works in two ways. Obviously, using Entropay protects you against any kind of identity theft that may occur while playing poker on the net. Nobody can access your real bank account using your Entropay information.
There's another plus point - with banks in SA not exactly friendly to online poker transactions in the country, Entropay comes into its own as it keeps your money movements separate from your regular bank account.
Disadvantages
Like all digital options, you have to put money in your Entropay account before you can actually complete an online poker deposit, and that means transferring funds from your bank. It's not a terribly slow process, but with an expected wait of 5-7 days, it's not exactly fast, either. Once you're up and running, you can plan ahead to avoid the long waits, but that's the price you pay for the security and privacy that Entropay offers.
How Safe is Entropay to Use?
Entropay's safety is the one thing that you just can't question. After a decade of handling digital transactions, they've got as much experience as most of the biggest digital payment companies in the industry, and their association with Visa's standard card services gives them a big reputation boost.
We Find The Best Entropay Poker Sites in SA
We know how tough it is to go through all of the many Entropay poker rooms online because we've done it ourselves. If you want to save yourself time and effort finding a top real money Entropay room, make sure you use our recommended links within these pages.
Our team of top SA experts rate, test and compare a ton of online sites to give you the best guide possible. Our opinions are second to none, so if you want to start playing a card game on a site with good software, a sweet deposit bonus and a proven track record in safe financial transactions, look no further.