Using Paypal For South African Online Poker Sites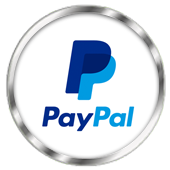 PayPal was the first ePayment company that really hit it big. In 2002, they were bought by eBay and moved to California. That's when they really took off and secured their place in the digital payment arena - with many poker sites accepting PayPal. Today, they have more than 150 million users that send cash around the world in dozens of currencies.
The legal situation in the US saw a decline in PayPal poker sites, but now it has re-entered the gambling market and is showing up at lots of previously blocked poker rooms.
Want use PayPal to deposit at a good poker site that accepts South African players? We test, rank and compare the very best PayPal online poker rooms in 2023 for SA players to ensure you can get straight to the felt.
Advantages For South African Players
When you use PayPal to manage your online Texas Hold'em bankroll, both you and your poker room will have accounts. This makes it easy to make instant PayPal poker deposits and withdrawals. There's zero waiting time - just click and go.
With a service like PayPal lined up directly between your actual bank and credit card, you don't have to accept anywhere near the same level of risk of identity theft. You're paying with your email address, and if someone happens to stumble across that, you've got nothing to lose.
Also, this buffering effect helps make sure your bank doesn't know what you're doing with your money - allowing you to play at top rated South African poker sites with peace of mind.
What Are the Downsides?
PayPal does charge fees, but they're quite small - less than 3% of the amount sent. Also note that many poker sites still don't accept PayPal deposits in 2023, but that's changing quickly. Right now, the only significant disadvantage is that you have to set up an account with them and fund it via credit card or bank wire. This process takes a few days and in the future you have to manage this additional account.
If you're one of the millions of people that already have accounts, this isn't an issue at all. However, if you're new to PayPal it's certainly something to think about. One extra step in the process, though, is probably not a deal-breaker by any means. The security and privacy benefits may very well outweigh the inconvenience.
How Safe is PayPal For Poker Deposits?
PayPal moves billions of dollars every year, and after all of these years of service, they've seen it all. With 128-bit encrypted secure connections, firewall protected servers, and selective browser requirements, PayPal does a good job of prevention; but they're always on the lookout. Their fraud detection team works around the clock to keep your personal information (not to mention your money) safely out of harm's way. In terms of eWallet services, this is the gold standard.
We Find The Best PayPal Poker Sites on the Net
As part of our commitment to helping South African players, we've spent a good bit of time finding the best poker rooms on the Internet and, if you're not absolutely sure where to start, you should consider one of the rooms on these pages.
We work tirelessly to find great South African friendly sites because we're just like you - South African players who want to get our money onto a poker room fast and get winning even faster. We only pick out the top sites for software, safety, speed of deposits and player traffic. Pick a top link today and get your PayPal account working for you.