Best Android Poker For South Africa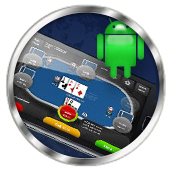 The days when you had to be sitting at a desk to play online Texas Hold'em are well and truly gone.
With smartphone technology improving all the time, mobile Android poker is here to stay. In fact, poker sites' Android apps will change the way you look at the online game forever.
Today, with all of the technological advances that have made mobile gambling possible, you can play on your Android anywhere in the world, South Africa included, and you can do it with any major mobile provider like Vodacom, MTN and Cell C.
If you're ready to start winning real money card games on your Android cell or tablet, read on to discover the best online poker has to offer SA players.
Android Poker - Pros & Cons
The top Android clients from online poker sites have basically everything a South African player like you could ask for. Even above and beyond the cool factor, there's no denying that poker sites' Android games cannot be beaten in the convenience category. Unlike other phones, the Android is much more compatible with online poker sites and also doesn't suffer the same Flash issues other models have. This means you can play via your web browser much more efficiently if there is a no download option.
If you don't own a laptop, how can computers compete with total wireless access all over South Africa? Well, in terms of poker sites, Android users have much to enjoy, although there is one downside that nobody can avoid: playing on a small screen.
On an Android screen you simply have less space for information, the text is smaller, and you cannot enjoy some features such as multi-tabling. Some smartphone apps or no download versions also don't have the same level of graphics and software the regular desktop versions do. But hey, they're also not taking up a ton of space on your phone's hard drive.
In short, good poker sites for Android offer plenty of convenience, but ultimately you'll still need a desktop computer to take advantage of some specialty features.
Five Top Tips
As you get started with the Android online gambling options, there are a few things you should do to have the best experience possible. Here are the top five tips, straight from our South African team of experts.
1. Know Your Limits - There's nothing more tilting than going bust, but this is usually avoidable. Keep your bet sizes reasonable - both in live games and via your favourite poker site's Android software - and you're much more likely to have a longer poker life.
2. Keep Your Battery Charged - It sounds obvious, but it bears repeating. When your battery runs out, not even the best online poker site's Android app on the planet can help you out. Charge your portable device every chance you get, and, if it's getting low, don't be afraid to put your game on hold for a while.
3. Avoid Distractions like the Plague - This one applies to all kinds of Internet gambling, but it's particularly important when you're playing on poker sites for Android. Even if you can play in a busy food court, it doesn't mean you should. If your environment isn't letting you focus on the game, wait until you find yourself in a more gaming-friendly place.
4. Learn the Interface - Poker sites for Android have to offer special software that works smoothly on mobile devices, and that requires some changes to the interface. Take your time (even if that means playing for free for a while) and learn it inside and out before you take the real money plunge.
5. Maximise Your Time Management - The biggest benefit that a mobile card game like Texas Hold'em has to offer is the fact that you can play anywhere - so take advantage of it and become a more efficient player. If you can move more of your Android poker games to the downtime you have during the day, you can save your evenings for other things.
Apps & Games Android Poker Players Will Love
Now that you have a clearer picture of how smartphone-powered mobile gambling works, all you have to do is to find the best online poker sites Android phones can handle. There are hundreds of options out there, so check our links and comparisons first before downloading any of the poker sites' Android apps. Most top poker online sites have freeplay software to start you off, and great options available in South Africa. In no time you'll be winning more on your phone. For the best places to play mobile poker, look no further than these pages.