Poker Deposit & Cash Out Guide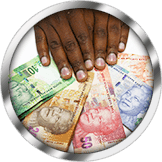 Not being able to get your money out of an online poker account has to be up there amongst one of the most frustrating things that could happen to any gambler. Thankfully though, at the best poker sites for South African's getting your money in and out is simple.
Read on to get the lowdown on what is and isn't allowed when you transfer money to and from an online poker site from South Africa.
What Works And What Doesn't?
Before we get to the good bit about which transactions you can actually use in SA, lets look at why you can't use the usual suspects in a bit more detail:
PayPal
This is a payment method you've probably used lots of times before for buying most things from the Internet. The bad news is that PayPal as a company has taken a pretty cowardly position towards real money gambling for a while. They comply with the extremely vague and unclear anti-online poker laws launched by various governments around the world from the USA to South Africa.
There are still a couple of international online poker rooms that you can deposit and withdraw with PayPal at but they are expected to comply with the 'no to gambling' camp soon.
What Can I use Then?
Don't panic, you've got loads of great transaction methods to choose from and they all come in the shape of an eWallet.
eWallets are secure online services that give you somewhere to store the money you want to use for online poker and they let you withdraw cash both to and from your eWallet account. Here are the top eWallet options for South Africans:
NETELLER
NETELLER is an eWallet that's been helping out real money online poker players for a long time. These days they are the most trusted name in the business and are open to players all over South Africa.